At The Great Frame Up of Burnsville, we get a lot of vacation and travel art that customers want custom framed.  Do you want to preserve and display your vacation memories for a lifetime?  Bring your photos and/or art to us and we will help create your masterpiece!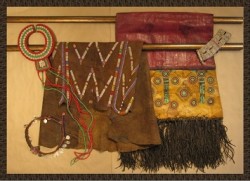 Here are two pieces from a customer's trip to Tanzania.  We originally were looking at putting everything into one frame, but the customer opted to have two custom framed pieces to create a larger display in her home.  We framed the skirt, belt, necklace and headpiece in one frame.
The piece of leather, beads and metal jingles were placed in a separate frame.  The pieces smelled of smoke, they must have been worn to dance around some campfires.